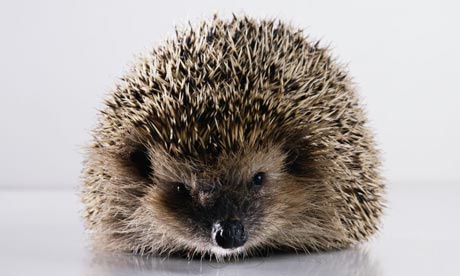 The British Hedgehog Preservation Society (BHPS), the UK's leading hedgehog charity, has teamed up with Ernie Hedgehog, lovable icon of cleaning company Spontex, to support the plight of British hedgehogs.
According to the BHPS, hundreds of hedgehogs needlessly die or suffer horrific injuries throughout Bonfire Night celebrations.

A bonfire looks like a 5-star hotel to a sleepy hedgehog searching for the perfect place to hibernate. Most people don't think about checking a bonfire before lighting which can result in the death of all sorts of unsuspecting wildlife and pets asleep inside.

The BHPS offers these simple suggestions:

Try not to actually construct your bonfire until the day it's to be lit.
This also stops a bonfire getting soaked should it rain the night before!

Check, dismantle and move stored bonfire materials to another spot just before lighting.

Build it on clear ground and never on top of a pile of leaves

Avoid building it close to pampas grass -this ignites easily and is another favorite spot for hedgehogs to hide under.

Large display bonfires have to be built in advance - encircle the entire construction with one-metre high chicken wire held in place with stakes and sloping outwards to make it difficult for a hedgehog to climb
Hedgehogs tend to hide in the centre and bottom two feet of the bonfire so check by gently lifting the bonfire, section by section, with a pole or broom.

Never use a spade or fork as you might inadvertently stab one

Using a torch will help and listen for a hissing sound - the noise made by a hedgehog when disturbed
Going to an official, organised firework display is a safer option for both humans and animals.
Ernie Hedgehog has become a cult icon in France - as well as appearing on Spontex scouring products, he has starred in his own TV adverts and there is a huge demand for Ernie merchandise including lovable soft toys.
Ernie will promote the BHPS and its campaigns on the Spontex website www.spontex.co.uk as well as on his twitter www.twitter.com/ErnieHedgehog and Facebook sites.
Commenting on Bonfire Night, Fay Vass, BHPS chief executive, said:
"If you find a hedgehog in your bonfire, take as much of its nest as you can and place in a high-sided cardboard box along with plenty of newspaper/old towelling. Ensure there are air holes in the lid which should be firmly secured to the box to stop the hedgehog escaping. You can offer it meat-based pet food and fresh water.
"Protect your hands from the prickles by wearing Spontex garden gloves or use an old, folded towel. This also stops any human smells being transferred to the hedgehog which causes additional stress."
"Put the box in a safe place, such as a shed or garage, and well away from the festivities, as fireworks terrify them. Once the bonfire is completely dampened down, release the hedgehog under a hedge, bush or behind a stack of logs."
For free advice and to obtain the names of carers in your area in advance of bonfire night, contact the BHPS on 01584 890 801 or see their website at www.britishhedgehogs.org.uk